EA Sports, through their official Website, has revealed major changes to Ultimate Team Champions, Rivals and Squad Battles rewards in EA Sports FC 24 Ultimate Team (previously FIFA Ultimate Team – FUT) mode.

EA SPORTS FC™ 24 is set to bring about significant changes to various modes within FIFA, with a particular focus on Squad Battles, Rivals, and Champions modes. These changes are designed to address specific challenges and create a more rewarding and balanced experience for players across all three modes.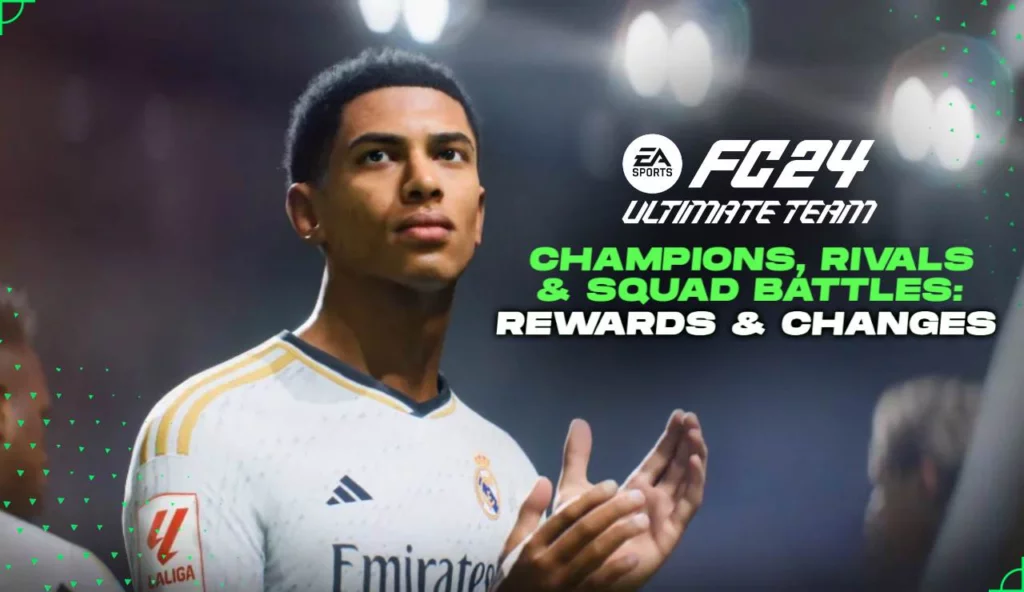 Seasonal XP in Mode Rewards:
As mentioned above, Seasons will play a central role in Ultimate Team 24. As part of that shift, you'll notice that Squad Battles, Rivals, and Champions modes now feature weekly Seasonal XP rewards. This will help you make more progress on the Seasonal Ladder by playing in your mode.
Champions:
In Champions we'll update rewards throughout the year to make sure that they feel meaningful, whether you are playing in October, February, or June. The most notable change you'll see right away at launch is that Ultimate Team Champions Player Items (sometimes referred to as Red Picks) will be replaced by rewards of equivalent value in-game. Before jumping into more details about why we're making these changes, this doesn't mean that Ultimate Team Champions Players will be gone forever. Instead, we'll be focusing on how and when they show up in Ultimate Team throughout the year.
By making these changes to Ultimate Team Champions rewards, we want to make rewards more relevant to your Ultimate Team journey throughout the year.
The original aim of Champions Players was to allow players to showcase their on-pitch ability, through special versions of Players in their squad. As we look at in-game usage, it's clear that Ultimate Team Champions Players' match usage drops the deeper into the Live Service we go, with Champions Players being used more and more in Squad Building Challenges (SBCs).
Last year, as the vast majority of leagues paused in November, we updated our Champions rewards in Season 2 which allowed players: 
Greater ability to receive Campaign content as part of their Champions rewards
An OVR minimum guarantee for player rewards that enabled greater options when completing SBCs
By removing Champions Players from the default rewards lineup, we'll be able to focus on delivering more frequent changes to Champions rewards throughout the year, helping to keep them as a key avenue of growing your squad all season long.
In addition, we'll be updating Champions rewards for Rank 2 and above. A focus for us heading into EA SPORTS FC™ 24 is to ensure we better balance difficulty and rewards for elite play, and these changes look to reward the best of the best each and every week.
Rivals:
Our focus on rewarding elite play is driving rewards changes in Rivals too, where we'll be updating rewards across the mode with extra attention on making Division 2 and above more rewarding. With this change we want to make sure that there's a better incentive to play in a higher division each week.
Similar to Champions, the Champions Players that could be earned in the Elite Division will be swapped for rewards of equivalent value at launch.
Squad Battles:
As announced back in the Ultimate Team Deep Dive Pitch Notes, we're reducing Squad Battles halves to 4 minutes from 6 minutes. In addition we're reducing the total number of matches that count towards your weekly rank from 40 to 32.
Our aim with these changes is to increase the amount of time you actively spend playing the game versus playing out the clock in some matches, as well as improving the rewards balance between playing offline & online.
That's a sneak peak at what we have in store for the year ahead, stay tuned for more detailed Campaign announcements as we head towards launch. On the EA SPORTS Football team we've all grown up playing EA SPORTS football games and are excited to take this step into the new EA SPORTS FC era both as fans and team members. On behalf of the wider FC Live team, who make all of the above work possible, I wanted to thank you all for your passion and energy as we build the biggest community of football fans together.