Team of the Season (TOTS) is around the corner in FIFA 23 and after all the successful Promos, We are soon getting one of the most awaited and second best promo in FIFA 23, after Team of the Year (TOTY). EA Sports are releasing TEAM OF THE SEASON (TOTS) in FIFA 23. In this article, We are going to tell you what you can expect, when it is expected to be released, and all leaks related to this event.
Team of the Season (TOTS) is a campaign in FIFA 23 Ultimate Team celebrating the best players from around the world during the 2022/23 domestic league seasons. Players selected in Team of the Season are recognized for their superb form with ratings upgrades that can make them some of the highest-rated players available in FUT 23.
In the TOTS event, which has been released every year since FIFA 12, players from across Europe and the rest of the world are recognized with more than fifteen squads of special boosted cards.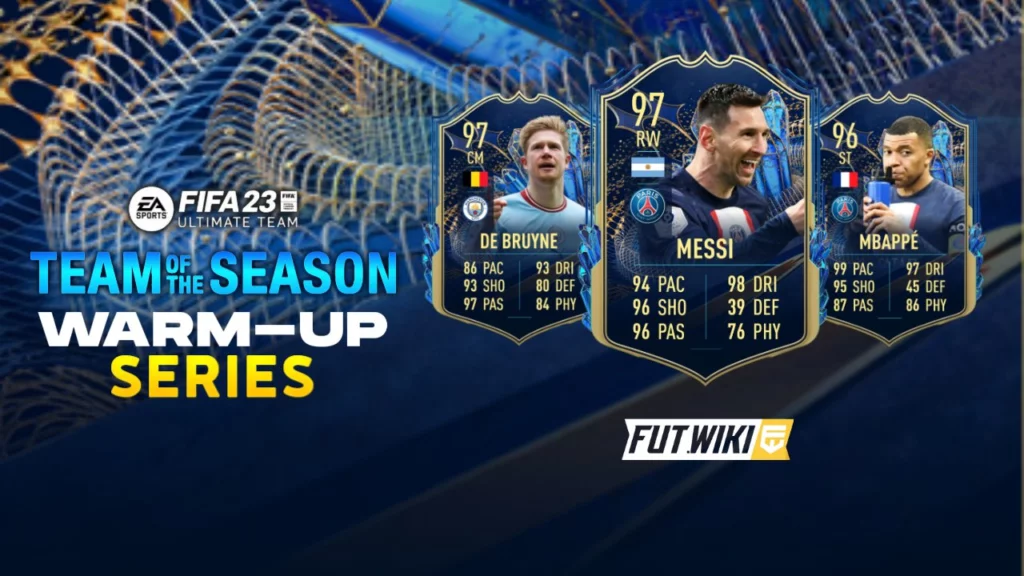 FIFA 23 Team Of The Season (TOTS) WarmUp Series: Release Date and Content
It's important to say at the current time these are leaks and not official, but it's looking very likely that the Team of the Season Warm Up series will begin on Friday 21st April, a week before we expect the full Team of the Season promo to begin.
If we're expecting similar to what we got in FUT 22, we can expect to see plenty of Puzzle SBCs, Upgrade SBC's and Objectives. Some of the upgrade packs were related to TOTS releases as well, We also got a free pack for logging in, so hopefully that returns!
Team of the Season Warm-Up Series Leaks
85+ Player Pick
86+ Double Upgrade SBC
11x +81 League Upgrade SBC (from all top leagues)
Daily Upgraded SBCs are coming to FUT, and if you complete all of them, you will receive a TOTS Player!
Eleven 75+ Ligue 1 Pack