EA Sports, through their official Website, has revealed complete list of Worldwide Server Locations for EA SPORTS FC 24.
The physical distance between a player and a game server directly affects latency and ping times. When servers are far away, data packets take longer to travel, resulting in higher latency. Low latency is essential for a responsive and smooth gaming experience.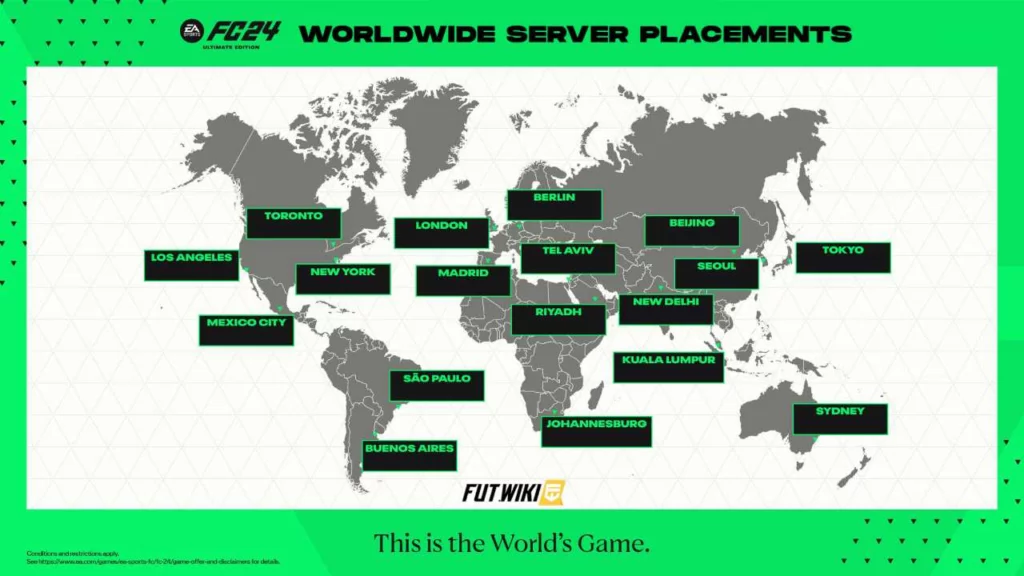 WHERE ARE EA SPORTS FC 24 GAME DATA CENTERS LOCATED?
EUROPE
Amsterdam
Dublin
Frankfurt
Helsinki
London
Madrid
Milan
Paris
Tel Aviv
Warsaw
Zurich
ASIA
Bahrain
Dubai
Hong Kong
Manama
Mumbai
Singapore
Tokyo
OCEANIA
NORTH AMERICA
Dallas
Des Moines
Los Angeles
Mexico City
Miami
Portland
Virginia
SOUTH AMERICA
Buenos Aires
Lima
Santiago
São Paulo
AFRICA
FAQ
What are game data centers?
Game data centers are a physical location with hardware and software systems designed to operate online gameplay.
You may also hear these being referred to as "servers" by other players, but "game data centers" is their technical name.
Why does EA SPORTS FC use game data centers?
EAS FC uses game data centers so that someone else's connection doesn't impact your own gameplay experience. The game data center handles the distribution of gameplay information to all players.
The game data center collects inputs from your game at a set interval of time, then it sends this information back to everyone else in a match. This happens at the same time for all players and is determined by their individual connections.
If one player is streaming 4K movies and trying to play on a weak Wi-Fi signal, their activities shouldn't impact anyone else in that match. The game data center still sends the information at the same interval.
A game data center acts as the host of the match in multiplayer matches.
How does EA decide where to place game data centers?
We work with industry-leading enterprise technology partners for our game data centers and place them in high-population areas with quality technology vendors.
Our vendors provide us with robust technology that can process data from tens of millions of players. Before implementing a new game data center, we carefully analyze its long-term effects on the players in the surrounding region, since adding more centers doesn't automatically result in a better player experience.
Why do some players connect to a distant game data center?
EAS FC will always try to have you play online matches on your best game data center. Although that's often the nearest one, this is not always the case.
Internet service providers (ISP) generally don't send data from Point A to Point B directly. They route this data across locations, sometimes across the globe. This can be a physical networking infrastructure limitation of some ISPs, or part of their business model. These decisions are ultimately handled by ISPs based on their unique needs and situations.
In some cases, your connection to a game data center is the best connection available at the moment, even if it's further away. Your connection can be routed elsewhere if there are internet issues impacting the route that your network traffic would normally take, or if one of our game data centers is experiencing technical problems.