FIFA 23 players with an Amazon Prime account can claim free Ultimate Team rewards via the Prime Gaming pack. Here's how FUT fans can claim their free rewards.
New Prime offers are available every month for Amazon Prime members. You must link your Amazon Prime and EA Sports accounts to get them. This month the Amazon Prime Rewards are expected to drop on 22 May, 2023 with some great rewards.
You can only link your EA Account to one Amazon Prime account. You are only allowed to unlink your accounts one time within six months. So, be sure the Prime Gaming account you link is the one you will have access to for the lifetime of your EA Account. Otherwise, you may lose access to rewards on your linked account.
The free rewards included in the Amazon Prime Gaming pack should give FIFA 23 players a much-needed boost when it comes to building their Ultimate Team squads, especially during the World Cup. Here's how to claim the FIFA 23 Amazon Prime Gaming pack.
What are FIFA 23 Prime Gaming packs
The Prime Gaming Pack offers players free Ultimate Team rewards in FIFA 23. To redeem these rewards, players must have an active Amazon Prime membership.
Prime Gaming is one of the many benefits that comes with a subscription to Amazon Prime. In other words, anyone with an Amazon Prime subscription is eligible to receive the Amazon Prime Gaming pack for FIFA 23.
The rewards on offer vary but they usually include untradeable players, player picks, and consumables. The Prime Gaming pack is offered once a month following the release of FIFA 23.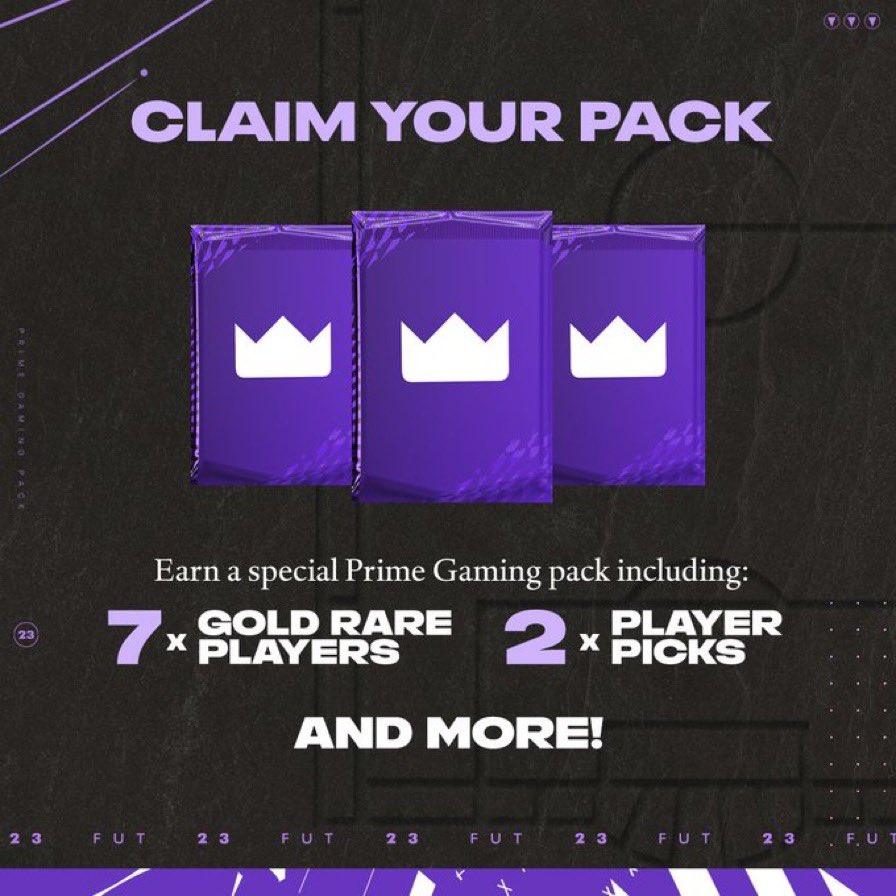 How to Link your EA Account to Amazon Prime account
Go to the Prime Gaming website
Click Claim Now in the active FUT 23 offer
Link your EA Account by clicking Go to Electronic Arts
Click Allow when asked if you want to allow Electronic Arts to access your Amazon account
Confirm your EA Account. If it's not your account, click Not your account? to switch to the right one
Click Continue. If you have Login Verification turned on, you'll be asked to verify your identity
Click Link Accounts
Click Return to Amazon
Click Complete Claim.
How to claim FIFA 23 Prime Gaming packs
If you've successfully linked your Amazon Prime and EA account, your offers will be available next time you log in to FIFA 23.
Here's our step by step guide on how to claim the FIFA 23 Prime Gaming Pack:
Go to the Prime Gaming website
Click Claim Now in the active FIFA 23 offer
From the main FIFA 23 Ultimate Team screen, navigate to Store
Go to My Packs
Your Prime Gaming rewards will be there waiting for you and featuring a custom pack art.
Content will be available only on the first platform you log into with your linked EA account. Therefore, if you play FIFA 23 on multiple platforms, you will have to choose which one you want to receive your offers.
What's included in Ultimate Team's May Prime Gaming pack
Each month the Amazon Prime Gaming pack for FIFA 23 will have different rewards on offer. Here are the May Prime Gaming rewards you will receive:
1 Prime Icon on 10 games loan
Prime Gaming exclusive Pack! Contains 7x Gold Rare Players (untradeable)
2x 82+ rated Player Picks
12x Rare Consumable Items
With some luck, these rewards can deliver excellent players that can drastically upgrade your squad.