After all the successful and exciting Promos, it's time for FUTTIES in FIFA 23. EA Sports released the FUTTIES Team 6 promo at 6:00 PM on August 25th, 2023 in FIFA 23.
The Futties promo has been a mainstay of FIFA Ultimate Team over the years, having first launched back in FIFA 15, with the event often featuring re-releases of some of the most popular player items from that year.
Celebrate the season gone by and the summer ahead with FUTTIES, a festive wrap-up of this year in FUT 23. Enjoy brand new FUTTIES Player Items to add to your squad including FUTTIES Heroes and Premium Chemistry FUTTIES plus welcome back some of the best players from across FUT 23 with several batches of re-released Player Items.
FIFA 23 FUTTIES Team 6 official players list
Below we show you the complete official players list of players in FIFA 23 FUTTIES Team 5 promo.
Robert Lewandowski
Gianluigi Donnarumma
Paulo Dybala
Claudio Marchisio
Abedi Pele
Iván Córdoba
Sergio Busquets
Landon Donovan
Fred
Włodzimierz Smolarek
Jack Grealish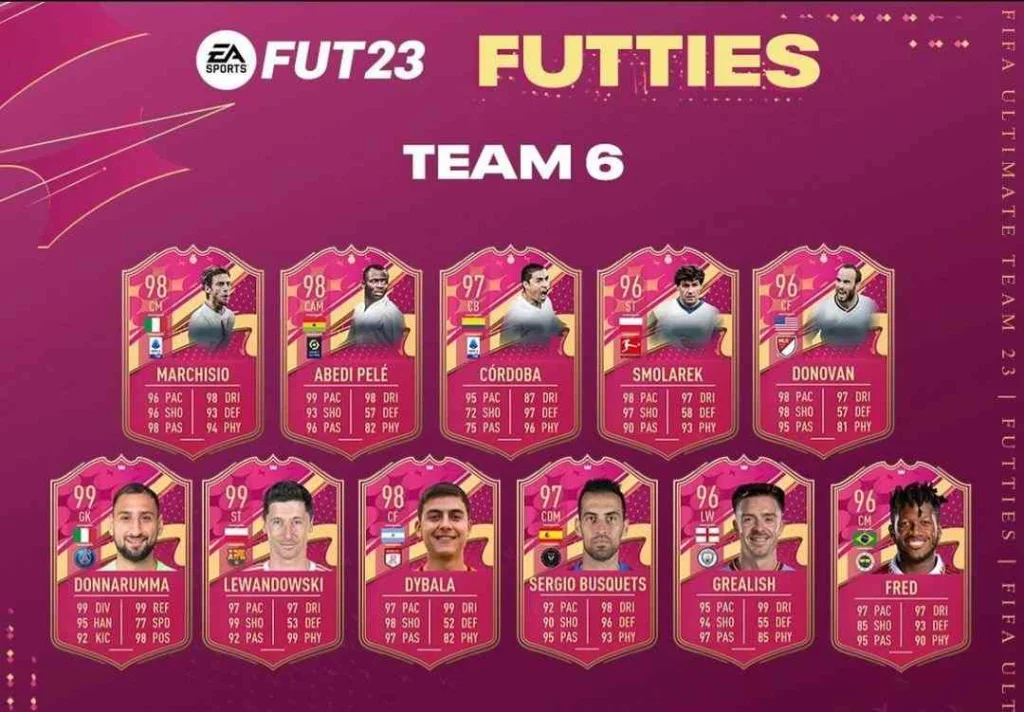 We wish you best with the packs and hope you get some good pulls.