EA Sports, through their official Website, has revealed list of Heroes who will be available in EA Sports FC24 Ultimate Team (previously FIFA Ultimate Team – FUT) mode.
EA SPORTS FC 24 is a new era for The World's Game: 19,000+ fully licensed players, 700+ teams, and 30+ leagues playing together in the most authentic football experience ever.
EA Sports revealed the first FIVE Heroes which will be coming i EA SPORTS FC 24 Ultimate Team. The upcoming game will include football legends like Carlos Tevez, Gianluca Vialli, Alex Scott, Wesley Sneijder, and Bixente Lizarazu.
But according to leaks there are many more players on this list which are quite famous such as Vincent Kompany, Rui Costa, Kanu etc.
OFFICIALLY REVEALED EA SPORTS FC 24 UCL / UWCL HEROES
First 5 UCL/UWCL Heroes were revealed on 25th July, 2023.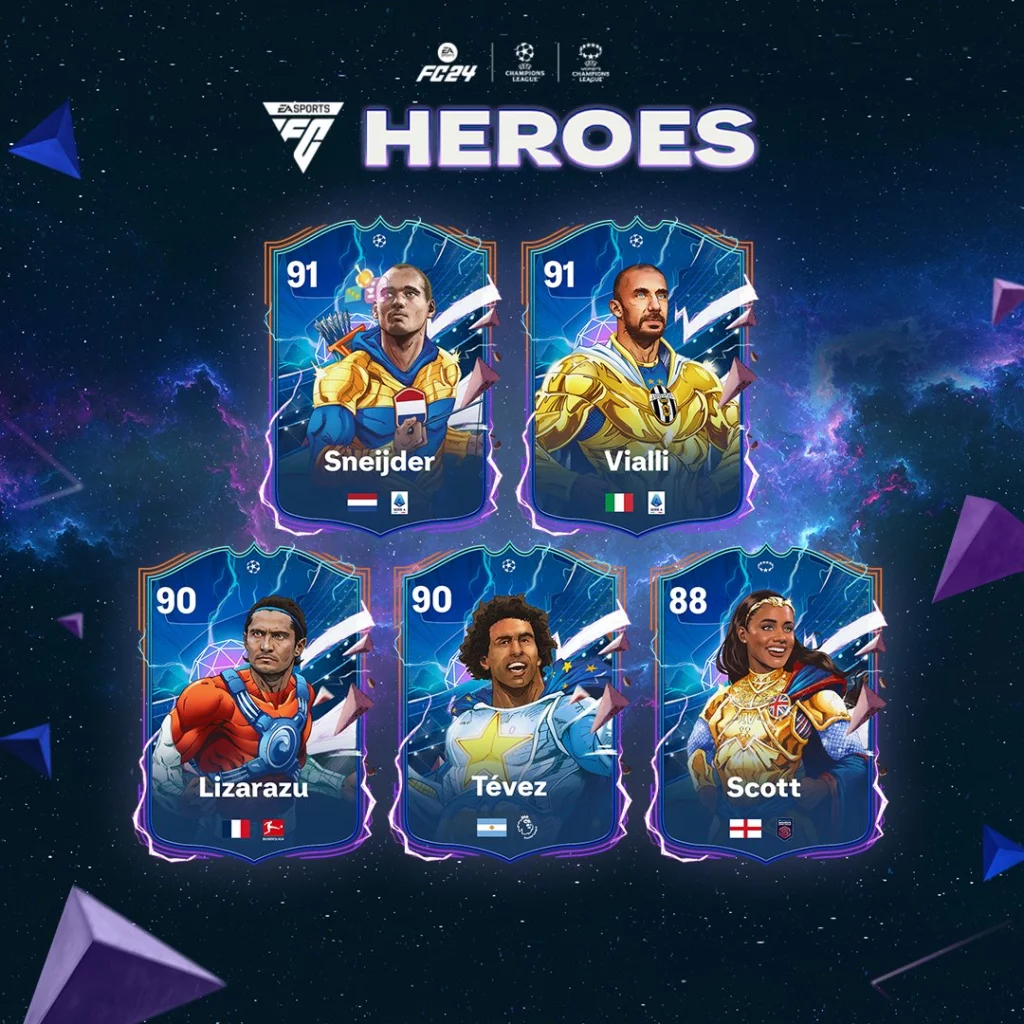 Carlos Tevez

Looking for the bravest person on the pitch? Find the player willing to go toe-to-toe with Carlos Tevez. As his nickname suggests, 'El Guerrero' was more than a world-class striker—he was a warrior, capable of fighting his way to victory with a rare combination of effort and ability.

Wesley Sneijder

Some Heroes you can recognize from a mile away. Wesley Sneijder could recognize you from twice that distance. Hard to get near and nearly impossible to escape, Sneijder's telescopic eye for a killer pass or pinpoint strike made him a menace from anywhere on the pitch.

Bixente Lizarazu

If a Hero never stops, Bixente Lizarazu was perpetual motion. From left back, he marauded forward, claiming the whole left side of the pitch for his own and charging onward to tackle all of world football from best left back in France, to best in Germany, all the way to best in the world.

Gianluca Vialli

Heroism isn't simply a measure of what you can do when the pressure is on. It's also a measure of the person you become in those big moments. Gianluca Vialli was a beacon of both character and quality, a striker that struck joy into all who had the fortune of watching him play.

Alex Scott

Loyalty to royalty. MVP to MBE. Alex Scott wears the crown of Ultimate Team Hero with honour, a distinguished individual on and off the pitch. She ruled the right flank for her entire career, stopping attackers in their tracks and leading her team forward from full-back.
Second batch of 5 UCL/UWCL Heroes were revealed on 26th July, 2023.
Nadine Keßler
Ludovic Giuly
Tomáš Rosický
Nwankwo Kanu
John Arne Riise
Third batch of 5 UCL/UWCL Heroes were revealed on 27th July, 2023.
Sonia Bompastor
Paulo Futre
Jari Litmanen
Rui Costa
Dimitar Berbatov
Final batch of 4 UCL/UWCL Heroes were revealed on 28th July, 2023.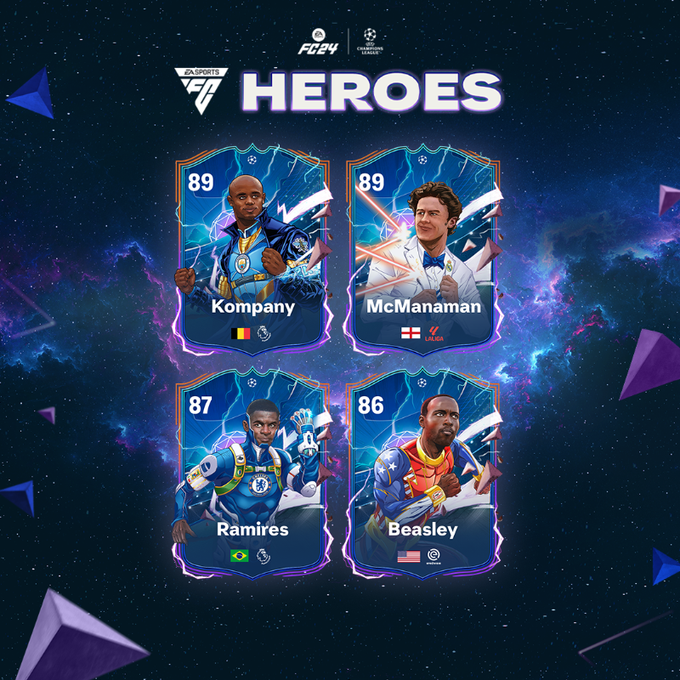 Vincent Kompany
Steve McManaman
Ramires
DaMarcus Beasley
Football is in good hands thanks to a new cohort of cult favourites including champions and pioneers from women's football teaming up alongside an already star-studded cast of Heroes.
EA SPORTS FC 24 welcomes 19 new Heroes, reimagined by Marvel as comic book heroes and heroines, to the pitch in Ultimate Team.
Each new Ultimate Team Hero this year will be remembered for how they performed both domestically and continental each will be celebrated with a base version as well as a UEFA Champions League or UEFA Women's Champions League version to commemorate their European greatness.
LIST OF LEAKED HEROES IN EA FC 24
Carlos Tevez
Vincent Kompany
Wesley Sneijder
Tomáš Rosický
Dimitar Berbatov
John Arne Riise
Nwankwo Kanu
Gianluca Vialli
Ludovic Giuly
Bixente Lizarazu
Enzo Francescoli
Paulo Futre
Rui Costa
Jari Litmanen
Steve McManaman
Alex Scott
There are still few to get leaked/revealed and couple of months until the release of EA Sports FC 24, and unanticipated changes may occur at any time. This is confirmed list, and it is important to note that in the past, several players, including Di Stefano and Zico, were added to the list, but never appeared in the game due to contractual issues.
FAQ
WHAT IS A UEFA CHAMPIONS LEAGUE/UEFA WOMEN'S CHAMPIONS LEAGUE HERO?

To celebrate this year's UEFA competitions, each new Ultimate Team Hero in EA SPORTS FC™ 24 Ultimate Team will have two versions of their Ultimate Team Hero Item: a base version, and a UCL/UWCL version. The base version will recognise a memorable moment from their club career, while the UCL/UWCL version will celebrate a key contribution on the European stage.
WILL UEFA CHAMPIONS LEAGUE/UEFA WOMEN'S CHAMPIONS LEAGUE HEROES HAVE THE SAME RATINGS AS THEIR BASE ULTIMATE TEAM HEROES ITEMS?

All UCL/UWCL Heroes will have improved ratings compared to their base items, depending on their memorable European moment.
HOW DOES ULTIMATE TEAM HERO CHEMISTRY WORK?
All Heroes themselves automatically receive full chemistry when playing in one of their primary or secondary positions. They also provide an extra league link (+2 league links overall) to all players from their same league and a single nation link to all players from their same nation.
WHEN DO PLAYERS WHO PRE-ORDERED THE ULTIMATE EDITION RECEIVE THE GUARANTEED UCL/UWCL HERO ITEM?
Base versions of all Ultimate Team Heroes will be available in Ultimate Team from launch. UCL/UWCL Hero Items will be in-game starting 27 Nov, which is when players who pre-ordered the Ultimate Edition will get their guaranteed Hero item.
We will update this post as soon as more legit information from verified sources will be available, Stay tuned…