EA Sports, through their official Website, has revealed the new mode in now Ultimate Team (previously FIFA Ultimate Team – FUT) known as Ultimate Team Evolutions.
EA SPORTS FC 24 is a new era for The World's Game: 19,000+ fully licensed players, 700+ teams, and 30+ leagues playing together in the most authentic football experience ever.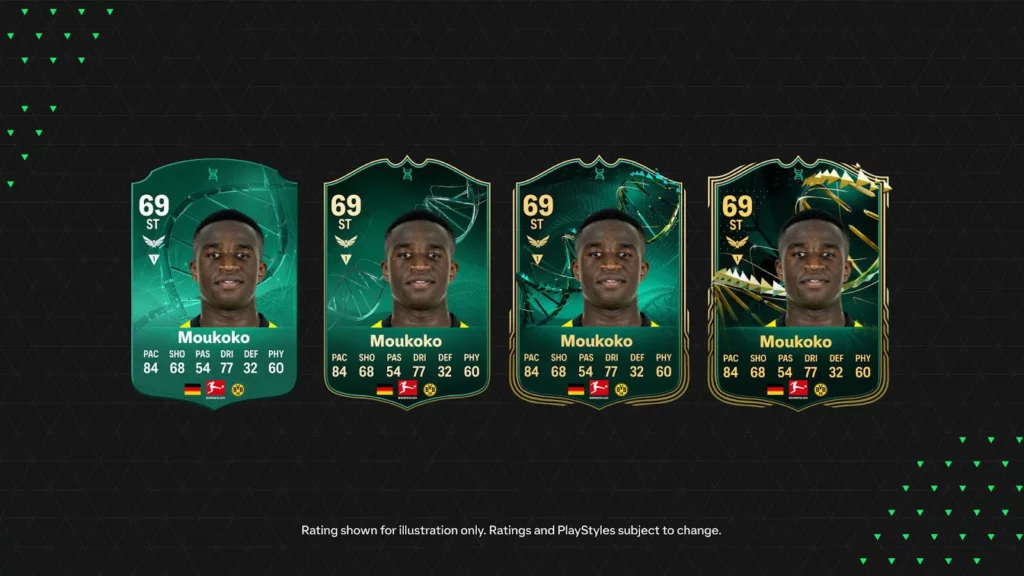 For the first time ever, you can improve players in your club via Ultimate Team™ Evolutions—a new way to build your squad around the players you love. Choose players that fit the Evolutions criteria and complete a set of objectives to improve their individual skills, PlayStyles, and overall ratings to keep them competitive throughout the year.
Ultimate Team Evolutions is a powerful new system that changes how you think about and build up your squad. For the first time, you'll be able to improve and customise players from your Club. You can take your favourite lower-rated players from any Club and level them up, as well as tweak and customise your top players by adding skill moves, changing work rates and weak foot upgrades as a few examples.
As you level up your players you'll also earn visual upgrades to show off all the work you've put into them. After you evolve a player once, that's just the beginning. You will be able to run the same player through multiple Evolutions throughout the year, so by the end of the year, you can have unique versions of players that no one else has. With the addition of women's leagues and Evolutions, this is the year where you can finally build your Ultimate Team.
You'll even be able to level-up how their Player Items look with new designs and animated backgrounds so you can flex on your opponent with your homegrown Evolutions players and all the milestones they've reached for your Club.
How does it work? What's an Evolution?
You can upgrade and evolve your players by committing them to an Evolution slot and completing gameplay challenges with that player. Once you complete the challenges, that player will have permanent upgrades.
Requirements
Not every player is eligible for every Evolution. You'll have to check the requirements to know what players you're allowed to use. An example of this might be 'Evolve any Silver Player', or 'Evolve a left back with 3* skill moves'.
A selection of Evolutions will be freely available for players to enter each season, and some will have coins or coins/points requirements. Just like the balance of upgrades coming through SBCs, Objectives, and the Transfer Market, we want to make sure Evolutions upgrade paths are balanced across Ultimate Team.
Challenges
Each Evolution comes with a set of levels of challenges for you to complete. They can range from simple, 'Play 5 Games where you score with this player in your starting XI' to challenging 'Win 10 Ultimate Team Champs matches with this player'. Complete all of the challenges in a level to earn the upgrades, and unlock more levels of challenges to complete.
Upgrades
You can claim upgrades for your player after each level of challenge you complete. They will range from Overall Stat upgrades, (ex. +5 OVR) or hyper-specific attribute upgrades (ex. +5 Curve). You can even customise and upgrade the following:
Skill Moves
Work Rates
PlayStyles
Alternative Positions
Weak Foot
You can also unlock new item visuals and animated backgrounds for your favourite players.
Campaigns & Evolutions
We're excited to see how Evolutions and Campaigns combine throughout the year to create different types of Players that we traditionally might not see in Ultimate Team. As long as Campaign Players meet Evolution requirements, you'll be able to upgrade Campaign versions of Players in the same way you can upgrade their base versions. Throughout the year you might also see challenges that require exact player rarity like Team of the Week.
In select Campaigns we'll introduce bespoke Evolutions tailored to that Campaign. Centurions will be one of the early Campaigns in Ultimate Team 24 that will leverage Evolutions.
Each year we see a number of you sharing the achievements of your club legend in Ultimate Team, as you rush to key milestones. However, their status within your club wasn't mirrored in the way they appear in your Squad Screen. Evolutions allows us to evolve what being a Centurion means within Ultimate Team.
Where can you complete Evolutions?
We're designing the majority of Evolutions to be played in your preferred mode within Ultimate Team. However, some challenges might require you to play in a specific mode. We want to ensure the Evolutions strike the right balance between being challenging and rewarding so that the Evolutions you choose are personal & meaningful to you and your Ultimate Team.
That's a sneak peak at what we have in store for the year ahead, stay tuned for more detailed Campaign announcements as we head towards launch. On the EA SPORTS Football team we've all grown up playing EA SPORTS football games and are excited to take this step into the new EA SPORTS FC era both as fans and team members. On behalf of the wider FC Live team, who make all of the above work possible, I wanted to thank you all for your passion and energy as we build the biggest community of football fans together. 
Throughout The Season
Our goal is to keep Evolutions feeling fresh and updated. We will be adding more ways for you to evolve your squad throughout the season. Some Evolutions might be only available for a limited time and will need to be completed in a specific time frame, or some will need to be enrolled in by a specific time. We'll be sharing more details about Evolutions in an upcoming Pitch Notes Deep Dive.
Here are the answers to the most commonly asked questions about Evolutions:
FAQ
Can I add an Evolutions player to the Transfer Market?
No. Once a player has been confirmed in an Evolution, it becomes untradeable.
How many players can I Evolve at a time?
You can have as many Evolution players in your squad as you want, but you can only activate one to Upgrade at a time.
Can I switch back and forth between players I want to upgrade, or do I have to finish the entire Evolution before I move on?
You can swap back and forth between your Evolutions freely. If you are working on a Silver Player Evolution and don't want to bring them into your Champs matches, you can switch to a more appropriate Evolution player in your main squad and work on them.
What happens to my progress if I switch which Evolution I am working on?
Your progress is saved. When you pick up that player and continue to evolve them, you will start right from where you left off.
Can I withdraw my item from an Evolution?
No. Each Evolution can be completed by only one player, and you can't withdraw your player or forfeit the Evolution.
Can I use Evolution players in Squad Building Challenges (SBCs)
In-progress Evolution players cannot be submitted in SBCs. However, once the Player Item is fully upgraded and the Evolution is completed then you can use them in SBCs.
Do Evolutions have time limits?
Yes, Evolutions can have time restrictions. If the Evolution timer runs out, you will earn all the upgrades for the levels that you have completed. You will not be able to claim the upgrades for any uncompleted, or partially completed levels.
Can I enrol the same player in multiple Evolutions?
Yes! If the player meets the eligibility requirements it can be enrolled in multiple slots, but a player cannot be in multiple slots simultaneously. A player can be enrolled in a new Evolution once their current one is completed.
Is the Evolution version of the player a duplicate of the initial item?
No. An Evolution is a unique item type.
How will I know which player I'm upgrading during gameplay?
There will be an overhead indicator on the player you are actively evolving.